Large Diameter Poly Pontoons
08-Mar-2016
Need serious flotation? We recently fabricated this 1000mm poly pontoon for a client that needed extra flotation on an existing floating pump pontoon platform. This particular poly pontoon was designed to be filled with water and submerged to bring it under the platform then pumped out to provide the additional buoyancy needed.
Think Long Term - Pump Pontoons support assets that are critical to maintaining your irrigation capability - we can assist with safe buoyancy calculation tools, our poly welders are PFT trained and all work is subject to strict Quality Assurance procedures.
Throw your pontoon application at our team today - Request a poly pipe pontoon quote for sizes 315mm up to 1000mm.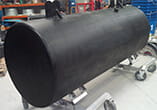 Sales + Customer Service:
T. 1800 ...click to reveal 634 644
Head Office:
5 Richards Rd Swan Hill Victoria 3585
Melbourne Despatch:
2 Richards Circuit, Keilor Park Victoria 3042
(by appointment only)