WELDING + PREPARATION EQUIPMENT
Looking for proven Poly Welding Machines or preparation tooling options? We don't just import and stock poly fusion tools and equipment, we put what we sell to the test in our own plastic engineering workshop. With 25 years of custom HDPE fabrication experience we can answer your questions with confidence and work with you to find the equipment solution that best fits your welding applications.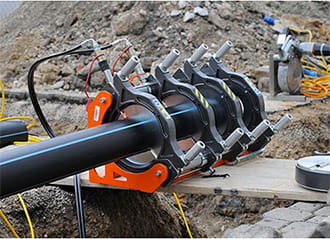 Poly Butt Welders
Poly Electrofusion Welders
Poly Tooling & Wipes
Complete Poly Solutions
Full spectrum poly piping solutions — that is the Matrix™ promise. We encompass every aspect of the installation. As a long-standing family business in the poly piping industry, we are big on unshakeable ethics and customer service.
Expert advice
You can trust Matrix Piping, because our strong business ethics are at the core of our service. Originally trading as Advanced Piping Systems for nearly 25 years, our business has evolved to offer a complete "Matrix of services in Poly Pipes"
Poly prefabrication
Prefabricated Polyethylene Pipes are a very cost effective method of pipeline construction, especially where dimensions are tight and critical. Matrix Piping specialise in custom prefabrication of poly pipework, including flanged spools and manifold assemblies from 25mm up to 1200mm diameter. 
Sales + Customer Service:
T. 1800 ...click to reveal 634 644
Head Office:
5 Richards Rd Swan Hill Victoria 3585
Melbourne Despatch:
2 Richards Circuit, Keilor Park Victoria 3042
(by appointment only)