Open Hours
8:00am - 5:00pm Mon - Fri

1800 634 644
Sales + Customer Service
Updated: 8th February 2017

Poly Pipe Fittings & HDPE Pipe Fittings to Suit Your Needs
At Matrix Piping, we carry an extensive selection of poly fittings to suit your needs. These pipe fittings, made from HDPE, are available in a number of different types in Australia, to ensure peace of mind when it comes to your poly pipe needs. Socketed type HDPE Pipe Fittings utilise an easy system called Electrofusion as the joining method. Items that have a plain pipe end are referred to as spigoted, which are available in both Short and Long Spigot versions.
Poly fittings available at Matrix Piping
Electrofusion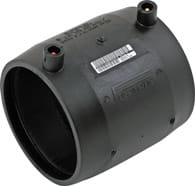 Electrofusion offers unparalleled flexibility as a method of jointing poly piping. A poly electrofusion weld can be performed simply onsite in the trench with minimal set-up time. In common sizes, pressure testing of the pipeline can be performed within an hour or two of welding. High strength is provided with electrofusion due to the large fusion area on the external of the poly pipe.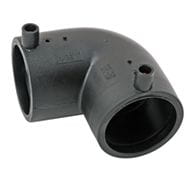 Longevity is excellent, as electrofusion provides a life span of between 50 and 100 years. Maximised flows are possible due to no internal beads that disrupt flows. Installation is easy with simple electrofusion tooling and can be performed by personnel with only 1-2 days of training. Electrofusion allows jointing in tight access areas and can be used with Gas Poly Pipe, Blue Stripe, Red Stripe, Lilac and Black HDPE piping.
Electrofusion is essentially an electric coil contained within a fitting that is heated to a set temperature, so as to melt the joiner and the piping that it is being joined to, in a controlled fashion, causing the two items to become homogeneous or 'one'.
Butt Fusion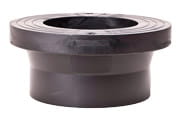 HDPE Butt Weld Fittings are perfect for reliable poly fabrication in low, medium and high pressure systems. Matrix Piping carry stock of quality, and our poly butt weld fittings are backed by Australian Standards and WaterMark approvals. Designed with short pipe tails for use only in butt fusion machinery, they are the favoured option by HDPE installation contractors as they are compact and excellent for prefabricated piping such as flanged pipe spools.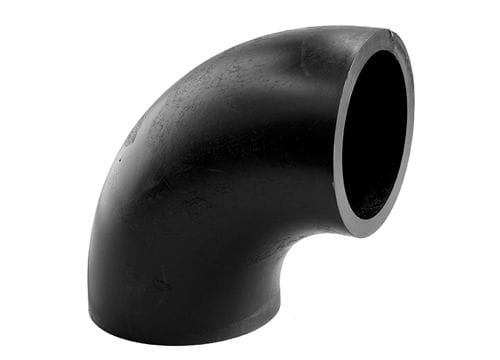 Butt fusion is a method of joining polypipe spigots, by a heater plate, set at a constant temperature, that heats the ends, melting the plastic pipe to a set temperature, which is then brought together under very high pressure and then allowed to cool, forming the two parts into 'one'. Butt fusion, when correctly performed, is guaranteed worldwide to be stronger than the piping surrounding it.
Long Spigot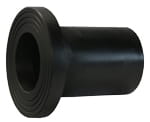 Long Spigot Fittings are similar to the shorter type, however they have sufficient enough length to enable welding by electrofusion, whilst maintaining the ability to be welded in a buttfusion machine. Long spigot poly fittings are typically available in sizes from 25mm and up to 400mm diameter, however larger sizes, such as 450mm and 500mm are sometimes available, you will just need to lodge an enquiry.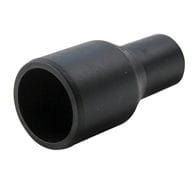 Long Spigot Fittings have the advantage of being much easier to use, the longer pipe tail length allowing easier clamping in butt welder machines. Typically long spigots are injection moulded, however in some instances, they are fabricated as an extended short spigot fitting using machining and buttfusion. PN10 and PN16 are the common pressure ratings available in Long Spigot, however other pressure rating can be made to order.
Other HDPE Pipe Fittings
The other type of polyethylene fittings, called Compression or mechanical joiners, are available in sizes up to 110mm, however they are most commonly used in low pressure applications up to 63mm. Compression Fittings are a mechanical type that utilises a rubber seal and a tightening mechanism to restrain and seal the joint. They have the advantage of not requiring power to install, however they are more prone to leaking and can be very difficult to install. We do not currently stock compression HDPE, however you can try companies that do, such as Hansen Fittings by HR Products. Whatever the application, we are here to assist our clients and make their life easier through correct advice, large stocks and great service.
HDPE Pipe Fittings are the product of choice for your piping needs, so go ahead and contact Matrix Piping today for all of your requirements, we guarantee you will be impressed! Head our way!
Contact us about our poly fittings today
At Matrix Piping, we carry an extensive range of piping systems and solutions, including irrigation systems, HDPE drainage systems and much more. HDPE Pipe Fittings are the product of choice for your piping needs, so go ahead and contact Matrix Piping today for all your requirements. We guarantee you will be impressed, so head our way!
Sales + Customer Service:
T. 1800 ...click to reveal 634 644
Head Office:
5 Richards Rd Swan Hill Victoria 3585
Melbourne Despatch:
2 Richards Circuit, Keilor Park Victoria 3042
(by appointment only)
Products
Get in Contact
Head Office
5 Richards Rd Swan Hill Vic 3585

Melbourne Despatch
2 Richards Circuit, Keilor Park Victoria 3042
(by appointment only)