New Melbourne Warehouse
16-Jan-2019
Dear Client,
Matrix Piping Systems are excited to announce that we have relocated our Melbourne warehouse to a brand new facility in Keilor Park.
Our new address is
2 Richards Court, Keilor Park VIC 3042
Our continued growth, thanks to loyal customers such as yourselves, has necessitated this move.
The new facility will enable us to hold more stock in Melbourne and allow us to service you even better than we have in the past.
Our contact information will remain the same:
Website:
www.matrixpiping.com.au
Email:
sales@matrixpiping.com.au
Phone:
1800 634 644
If you have any queries concerning our new location, please don't hesitate to contact us. We look forward to continuing to work with you from our new address.
Kind Regards,
Nelson Craig
Managing Director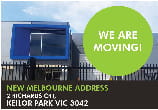 Sales + Customer Service:
T. 1800 ...click to reveal 634 644
Head Office:
5 Richards Rd Swan Hill Victoria 3585
Melbourne Despatch:
2 Richards Circuit, Keilor Park Victoria 3042
(by appointment only)